11000 Regency Parkway
Suite 110
Cary, NC 27518
United States
CATEGORIES & HEADINGSdetails >>
Software Designed for the Unique Needs of Healthcare Operations
Dude Solutions, parent company of TheWorxHub, is a leading provider of operations management software to healthcare organizations, from hospital systems to individual sites. They combine innovative, user-friendly technology with the world's smartest operations engine, empowering operations leaders to transform the most important places in our lives.

Today, over 1,000 hospitals use TheWorxHub to manage maintenance, assets, compliance, security, energy, IT and more. With Dude Solutions, you can:
• Gain access from any web-enabled device
• Complete one-step work request forms
• Track Compliance and Environment of Care
• Utilize survey and inspection templates
• Create custom, shareable reports
• Access deficiency-specific dashboards
• Utilize ongoing training and support via phone, email or live chat

TheWorxHub Suite includes:

Maintenance: Manage preventive maintenance, asset management and all maintenance tasks from one place

Compliance: Link assets and work orders to TJC and NFPA codes, allowing users to preview compliance requirements, track and report on compliance work with the click of a button

Surveys & Inspections: Ensure a safe and healthy environment by easily scheduling Environment of Care rounds or surveys for fire and life safety, triggering corrective actions based on deficiencies

PO & Inventory: More efficiently manage the usage and ordering of on-hand inventory

Environmental Services: Automate the documentation of EVS tasks and streamline the QA process

Capital Planning: Protect your current budget, forecast life cycle and more to create an attainable capital plan

Security: Detailed security rounding, incident reporting and a dashboard to track incidents to resolution

WorxIQ: Enterprise solution with a visual, customizable dashboard for analytics on daily work (across sites), as well as industry-wide benchmarks

Energy Manager: create unprecedented clarity into your utility bills and identify areas for cost saving with a singular, comprehensive energy database.

Vendor Showcase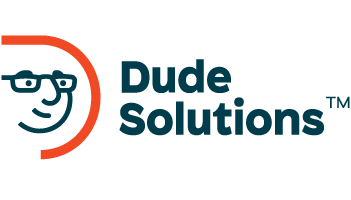 The new compliance feature in Dude Solutions' CMMS, TheWorxHub for Healthcare, empowers hospitals to better manage the fast-paced and regulatory-driven healthcare environment through a single platform.

The enhanced compliance functionality will reference The Joint Commission and National Fire Protection Association codes within the CMMS, allowing users to preview requirements while working, link the codes to assets and tasks, and demonstrate proof of compliance to surveyors in real time.

Additionally, users will be able to pull reports against any Standard or Element of Performance as defined by The Joint Commission. Watch this video to see for yourself how easy tracking compliance work can be and request a demo to learn more! read more