39 Kings Hwy. Suite A
GALES FERRY, CT 06335
Company Established In
1994
CATEGORIES & HEADINGSdetails >>
Since 1994, BRAND has been working in healthcare facilities, providing life safety services. Our goal is to provide facility managers with code compliant solutions for healthcare regulatory compliance, fire and smoke dampers , fire doors, firestopping, SOC and PFI services to meet all Joint Commission, NFPA, state and federal codes and requirements. BRAND is FM 4991 Approved, members of ASHE, FCIA & NFPA, certified WBE/MBE and all of our technicians are OSHA certified.

Overview of BRAND SERVICES life safety services:

REGULATORY COMPLIANCE:
Life Safety Assessments Statement of Conditions Smoke and Fire Barrier Assessments Life Safety, Environment of Care & Emergency Management Program Assessments / Mock Survey DNV Consulting Development of Policies and Procedures for the Physical Environment Pre-Construction Risk Assessments Fire Safety Equivalency Survey FSES (EOC) - "Tool Box" "Lean Methodology" for Life Safety & SOC Compliance Environment Of Care Rounds Building Maintenance Programs Inventory of Utilities Management Interim Management

FIRE / SMOKE DAMPERS:
Each damper is located and confirmed that it passes through a rated barrier ● Brand conducts a 20 point physical and visual inspection of all damper components to verify the equipments functionality ● We make adjustments or install replacement parts as required ● Each damper is labeled and dated ● Barrier walls are labeled for Fire or Smoke ● Inspection reports are submitted for each damper ● Summary reports are submitted for all deficient dampers; including, damper location, nature of damage, corrective action and repair cost budget ● We strictly adhere to NFPA 90a and 105

FIRE DOORS:
NFPA-80 requires documented inspections of fire-rated door assemblies on an annual basis; Certified door inspectors; Door re-certifications; Detailed Inspection Reports; Repair and replacement budgets; Repair and replacements; Annual Fire Door Maintenance contracts; We strictly adhere to NFPA 80 & NFPA 101

FIRESTOPPING:
Firestopping of all mechanical, electrical, sprinklers, plumbing and plastic piping penetrations; Sealing of unconventional and large openings; Firestopping of top of walls, slab edge construction joints and areas that are difficult to access; Extending the top of a wall that does not currently adjoin up to the floor above.

FIREPROOFING:
High volume applications: A team of four technicians can install between 4,000 and 5,000 board feet of material per day; Multiple crews can be used to increase daily production and compress schedules; Medium production applications; typically used in confined spaces or on small projects with daily production ranges form 1,000 2,500 board feet per day; Restoration or retrofit services include: removal and disposal of existing material, steel preparation and new material application; Dry board fireproofing includes: the installation of UL approved dry fiberboards to achieve the required fire rating.

Vendor Showcase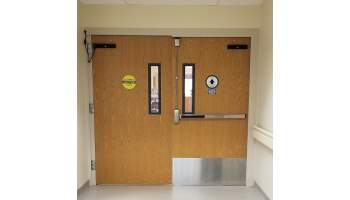 Having compliant fire doors is an NFPA code regulation that all healthcare facilities must meet on an annual basis. BRAND SERVICES is an industry leader in Smoke and Fire Door Inspections and Fire Door Repair services. read more